This article is written in
American English
.
Unhost was a male Hermit who joined the server during Season 1. XisumaVoid welcomed him and gave him a tour of the server in his Episode 87 "Unhost Joins Hermitcraft!". He is one of the few Hermits who were part of season 1 and the only Hermit to join late in season 1.
Season 1
Unhost joined late into Season 1. He was most notably known for being part of XisumaVoid's video welcoming Unhost into Hermitcraft. He did not play on Hermitcraft often. He was known for his other series. Unhost was still one of the most watched Season 1 Hermits by far because of his success with other series.
Season 2
Unhost started becoming more popular and was known for his LP's and Pixelmon playthroughs. He stopped uploading shortly into Season 2, right after becoming a full time YouTuber. He was not very popular for his work on Hermitcraft, like most of the other hermits at the time, and decided to leave to focus on other series before leaving again to focus on school.
Outside of Hermitcraft
Unhost has recently uploaded more content in recent years. He has got a full time job now and loves every bit of it. He works with really good people who have his back. He has not had as much time for games in recent years. When he was uploading, he was still just a kid. He still watches Hermitcraft. He says that his favorite YouTuber is EthosLab. He was planning on uploading more now but is not. He even mentioned coming back to Hermitcraft, but quickly dismissed the idea as he knows nothing about the game.
Minecraft Skin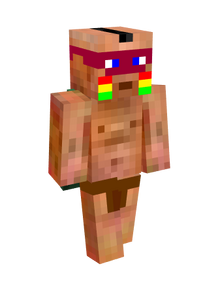 References
Community content is available under
CC-BY-SA
unless otherwise noted.