This article is written in
British English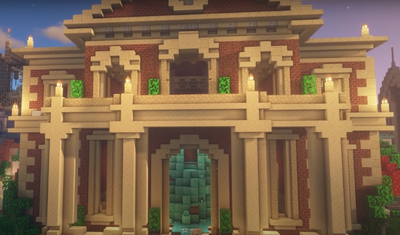 The voting started on the 23rd of June 2020, and concluded on the 27th of June 2020[1] with GoodTimesWithScar being elected mayor and JoeHills being elected dogcatcher.
The Hermiton Mayoral Poll
For more info, see Hermiton Mayoral Poll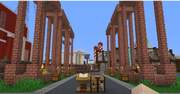 The Hermiton Herald held an unofficial poll to see which candidates were the most popular.
Voting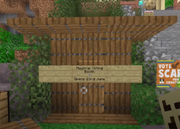 Voting started on the 23rd of June as announced by The Hermiton Herald[2] and continued until the 27th of June[1]. Hermits uploaded a video on their YouTube channel about the election from the 23rd of June 2020 in the Mayoral Election Voting Booth built by Grian in front of The Town Hall[3]. Hermits voted by renaming a paper to their choice and putting it in the chest. There were 2 voting booths, one for Dog Catcher and one for Mayor.
Results were announced by Grian once all votes were counted by displaying the amount of votes each candidate got on The Hermiton Mayoral Poll[4].
Candidates for Mayor
These are the candidates who ran for Mayor.
Docm77
Because Docm77 was moving in real life, he didn't campaign. He planned to buy Hermits' votes. Docm77 did not resurface on the server before the election and the voting eventually began without Docm77's participation. Docm77 was even excluded from the list of candidates for election.
FalseSymmetry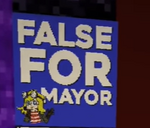 FalseSymmetry has decided on her own that she will run for mayor. She talked about how she has wanted to run for Mayor as she has been Sheriff in previous seasons, along with other leadership roles[5]. She has also made a poster. It says 'False for Mayor' and has a bit of pixel art in the bottom left. She has built a campaign headquarters: FalseSymmetry's Campaign Headquarters.
Due to her skills in PvP, she decided that she would be promising protection for the Hermits. So, with the help of TangoTek, she put hostile mobs into the shopping district with the intent of popping in at the right time to save anyone being attacked and then dropping off one of her posters[6].
GoodTimesWithScar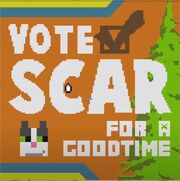 GoodTimesWithScar helped work on the building of The Town Hall, and has wanted to be mayor since the building was constructed. BdoubleO100 convinced GoodTimesWithScar to officially run for mayor[7]. He first started off by adding dark oak signs saying multiple things such as 'Want a tree?', 'How about a cat?', 'Vote Scar!', and 'Vote Scar' with black text on dark oak signs[8]. BdoubleO100 has said that he has wanted GoodTimesWithScar for mayor since he constructed it, and he is going to be voting for GoodTimesWithScar as long as he replaces the mycelium with grass. BdoubleO100 is GoodTimesWithScar's 'Campaign Sergeant'. In BdoubleO100's Season 7: Episode 16, he was promoted to 'Campaign Captain'. GoodTimesWithScar also built a headquarters for his campaign: GoodTimesWithScar's Campaign Headquarters.
GoodTimesWithScar was in first place until he lost a bet to Grian in Grian's Season 7: Episode 24. He also lost a vote from VintageBeef in BdoubleO100's Season 7: Episode 17 because of The Hermiton Herald explaining his disgusting obsession: licking diamonds. Trying to resolve the problem, BdoubleO100 made a cart right next to the Hermiton Mayoral Poll that sells 'Diamond Popsicles' to convince the Hermits that licking diamonds is not bad. BdoubleO100 later ran into Jellie, who has appeared to have written him a book[9]. The book said that the campaign was a mess and Jellie would be taking over. On the day of the election, GoodTimesWithScar built a mountain next to The Town Hall, Mount Scarmore[10]. In front of the mountain, Scar constructed his plans for what he would build to improve the Season 7 Shopping District if he gets elected mayor.
MumboJumbo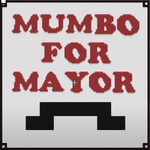 MumboJumbo was placed into the running for mayor by Grian without his knowledge to begin with. Grian made a massive poster for him using snow golems and black wool. An interview for The Hermiton Herald was done with MumboJumbo by XisumaVoid and it became obvious he has no idea what he is doing. Grian built a headquarters for MumboJumbo's campaign and a Grumbot[11] to help him and MumboJumbo define their campaign plan.
Grian managed to win a bet with GoodTimesWithScar and made him remove his support for himself, instead forcing him to support MumboJumbo. However, this only managed to put MumboJumbo ahead of the competition for a short period of time. They continued getting orders from Grumbot who made them make Mumbo for Mayor T-shirts, a film studio, and a Grumbot shop (later named Jrumbot)[12].
While they were carrying out orders, Grumbot was also interviewed by The Hermiton Herald reporters XisumaVoid and Cubfan135. Grumbot told the reporter that he has a 'secret plan' for his creators[13]. Grian also put mustaches on multiple things in the shopping district. Mumbo's mayoral campaign was that first and was what inspired other hermits to run for mayor.
StressMonster101
StressMonster101 did not show much interest in running for mayor, but due to a challenge from Iskall85 in Hermit Challenges[14]. she had to run. As it was his hermit challenge, Iskall85 agreed to be her campaign manager. Iskall85 (as IskallMan) has made her a campaign poster, as seen on the right, and placed them around town. She built her own campaign headquarters. Iskall85 built The Gorgeous Intelligent Fountain of Truth in the shopping district for her campaign, inspired by Grumbot. She built a new headquarters and depurposed the old one.
Rendog
At the command of the Renpire, Rendog officially supported StressMonster101 to use her to gain influence on Hermitcraft[15]. He gave her several diamonds as support, rebranded Bigger Logz Inc. to show her slogan, agreed to wear a Get Gorgeous t-shirt, and if she became mayor, she would have an infinite supply of wood from Bigger Logz Inc.
Hermiton Herald GG Edition
Iskall85 bought a full-page advertisement in The Hermiton Herald on behalf of StressMonster101[16].
Candidates for Dogcatcher
There was one candidate for Dogcatcher:
JoeHills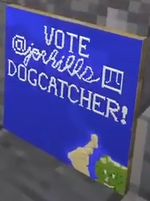 JoeHills decided to run for the position of 'dogcatcher'. He said that dogcatcher is different from the position of mayor, as he saw no need for a mayor in the shopping district. He made a poster saying 'Vote @joehills 4 dogcatcher!'. He said that if he won, he would cover The Town Hall diamonds with lava. After announcing his intentions of running, large numbers of dogs "mysteriously" appeared around the shopping district and in the bases of hermits. He was interviewed by XisumaVoid on behalf of The Hermiton Herald who thought he was running for mayor. XisumaVoid said he would vote for JoeHills as dogcatcher. Since JoeHills was the only person to run for dogcatcher, it was possible that he would automatically get the position.
Mayor's Job
According to Grian, the mayor is going to be in control of the diamonds in The Town Hall. Not much else is said besides they will organise the Season 7 Shopping District.
Election Results
Official Votes cast in the Mayoral Election Voting Booths. Docm77, who intended to run was not even listed on the ballots due to his inactivity prior to the election.
The final tally for votes was done by Grian. All votes for Dogcatcher were for JoeHills except two: one for StressMonster101 and one for Daffy Duck. For Mayor, Grian counted that StressMonster101 received 5 votes, FalseSymmetry received 4, and GoodTimesWithScar received 10 votes[17].
Mayor Votes
Dog Catcher Votes
| Candidate | Votes | Total |
| --- | --- | --- |
| Unknown Vote | | 12 |
| JoeHills | +2 | 14 |
There were 2 spoiled ballots in the DogCatcher Race, one for StressMonster101, who was running for mayor not dogcatcher, and another for Daffy Duck, who was also not running.
Voter turnout
Of the 24 Hermits, 19 votes for mayor were cast, a turnout of 79.2%[18]
14 votes for dogcatcher were cast, a turnout of 58.3%[19]
Aftermath of Election
After the mayoral election was officially concluded, GoodTimesWithScar immediately ordered all posters in the shopping district be taken down[20]. The 4 mayor candidates and JoeHills had put up over 100 posters across the server during the campaign, and while most have now been taken down, it is likely that many posters may remain for the remainder of Hermitcraft Season 7. StressMonster101's villagers also continue to roam freely around the shopping district, it is not known how long they will remain for or if eventually they will all either be killed, or reused by other hermits for their shops like one was used in Grian's Barge, two more were used by VintageBeef for his Wallpaper Shop, etc.
Jrumbot remains in the shopping district. All other related builds have been demolished and replaced with other builds. The campaign headquarters remain outside of the shopping district, and thus will likely remain for the reminder of the season. Grumbot broke just prior to the election[21], read more here.
Both GoodTimesWithScar and JoeHills were assigned offices within The Town Hall, currently only JoeHills has decorated his office[22]. GoodTimesWithScar also allocated 3 further offices to BdoubleO100, his campaign captain, CubFan135, his enforcer, and Jellie, his cat. BdoubleO100 decorated his office with another diamond throne, smaller than the main one along with a bust of anime BdoubleO100 which scares GoodTimesWithScar while CubFan135 decorated his office with a netherite throne and a list of the "most wanted" Hermitcraft players.
JoeHills has begun his dogcatcher duties, relocating large numbers of dogs from the server to his dog sanctuary, a region named 'Jurassic Bark' and has replaced the dogcatcher voting booths with a dogsighting report kiosk. GoodTimesWithScar removed all mycelium in the shopping district and constructed a main street leading up to the Town Hall.
Mayoral Acts
Bdoubleo100 proposed that any shops that have made no money within the past 3 months will be bulldozed.
GoodTimesWithScar created a rule that requires all shops to pay a diamond block to access the roads.
A road building competition has began, with several color-coded road lines.
Hermit Harassment
Since the start of the race, some fans took it too seriously, threatening to unsubscribe to some candidates if they won. XisumaVoid, the admin of the server, scolded these people on a livestream. He said that Hermitcraft is a community and that it would be rude[23]. He has also made a video about it on the XisumaSays channel. After the video released, it seems that the threats have died down.
Plopper for Mayor
Plopper was a zombie pigman that made his way onto the Shopping District. ImpulseSV found him while exploring The Town Hall. He named him 'Plopper for Mayor' and put him on the diamond throne. Plopper recently dropped out of the mayoral race, mainly because of no support, and then supported GoodTimesWithScar[24].
Plopper was removed on June 23rd 2020 when the server updated to 1.16 and zombie pigmen were removed from the game[25].
References
Community content is available under
CC-BY-SA
unless otherwise noted.