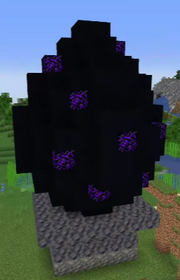 Tegg was a minigame in Season 8 invented by Grian in his Season 8 Episode 4 as a sequel to Tag 2: Electric Boogaloo. The game is similar to his other two games of Tag from Season 6 and Season 7, but rather than a nametag, involves the use of the Dragon Egg. The game costs 1 diamond block to play and lasted until a competitor has kept the egg for 500 in-game days. The game started on July 4th, 2021 and ended on August 21, 2021, with Cubfan135 as the winner.
Rules
[
]
The egg will begin in Grian's possession. The goal is to find the dragon egg and pick it up, thus transferring ownership to them. The owner of the egg must then incorporate the egg into their build. The goal of other players is to find the egg in their build to pick it up, thus repeating the cycle. The first player that manages to keep the egg for a total of 500 in-game days (about 10000 minutes, or 166.67 hours) is declared the winner and may claim all diamond blocks placed in the egg. At least one face of the dragon egg must be exposed at all times, meaning it cannot be buried or fully hidden. The game may also not be played on stream. After finding the egg, the player has a maximum of 24 hours to hide the egg again.
If the Dragon Egg is destroyed, it must somehow be replaced. If the egg is not replaced, it is currently unknown what the consequences will be.
At the end of the game, the egg will return to Grian.
Contestants
[
]

There are 2 more participants that are not known.
Overview
[
]