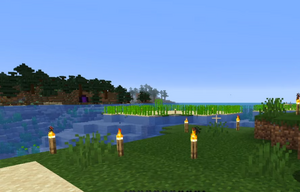 The Strait of Joebraltar is the mouth of the Hermiatic Ocean in Season 7. It is where JoeHills lives and focuses his building projects, such as his Winery, the Tower of Hercules, and Joerassic Bark. GOAT Bay and Mount GOATmore are adjacent to the southeast corner of the Strait, along with Docm77 and BdoubleO100's starter base.
Trivia
Its name is a portmanteau of the Strait of Gibraltar and JoeHills, the latter having named the bay.
JoeHills excavated a ravine-like cavern underneath, where he found three mob spawners in short range of each other.
Community content is available under
CC-BY-SA
unless otherwise noted.