Season 4 (25 February 2016 – 8 April 2017) was the fourth season of Hermitcraft. The Season 4 world was started on the 1.9 version of Minecraft, and it was gradually updated until version 1.11.2.
This season's world was based around a Badlands biome (then called Mesa), where most Hermits set up their bases. For the first time, a system of dividing the playing area in function-based districts was employed, colour-coded as such: Commercial (brown), Entertainment (orange), Farming (yellow), Industrial (green), Municipal (white), Residential-North (blue) and Residential-South (purple).
The world
World Seed: -3558144527798569323 [1]
Spawn Island: X:-1150 Z: 2180[2]
Mesa: X: -1200 Z: 1400[3]
Dungeons increased from 7 to 35[4]

Map of Districts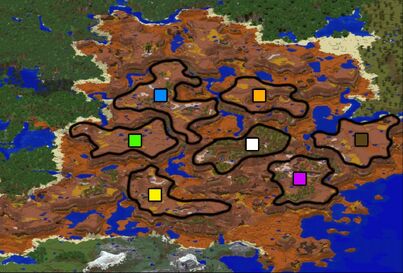 Hermits living in the North Residential District included: Cubfan135, FalseSymmetry, Iskall85, MumboJumbo, GoodTimesWithScar, TangoTek, Welsnkight and xBCrafted. Hermits living in the South Residential District include: ZombieCleo, (to be continued)... Docm77, EthosLab, and PythonGB did not have bases in either of the residential districts. Instead, Docm77 & EthosLab set up a gaming area and PythonGB set up a sea town nearby (but not in) the South District.
First day
Seventeen first episodes came out on the first day and one live-stream repost[5]. Cubfan135, FalseSymmetry, GoodTimesWithScar, iJevin, ImpulseSV, Iskall85, Jessassin, JoeHills, MumboJumbo, PythonGB, Rendog, TangoTek, TinFoilChef, Welsknight, xBcrafted, XisumaVoid, and ZombieCleo all posted on the first day. Biffa2001[6], Docm77[7], EthosLab[8], VintageBeef[9] and Zueljin[10] did not post until a later date.
Hermits
New hermits this season were Cubfan135, GoodTimesWithScar, Iskall85, Rendog, VintageBeef and Welsknight. Hypnotizd, Keralis, KingDaddyDMAC, Monkeyfarm, Pungence, Skyzm, Sl1pg8r, Topmass, XBCrafted and Zueljin left before the start of this season.
Whitelisted but did not appear
References
Community content is available under
CC-BY-SA
unless otherwise noted.