'This article is under construction. Please note that the wiki is being built, you can help at Community To Do List or check out How can I help'.
Hermitcraft Season 4 started on February 25, 2016. Seventeen episodes came out on the first day plus one live stream repost[1]. Hermits with first day videos include: Cleo, Cubfan, False, GTWScar, iJevin, Impulse, Iskall, Jessassin, Joehills, Mumbo, Python, Ren, Tango, TFC, Wels, xBcrafted, and Xisuma.
Hermits who did not post on the first day include Biffa[2], Doc[3], Etho[4], VintageBeef[5] and Zueljin[6]. Hermits who did not make an appearance on the S4 server but were listed as Hermits include Hyno, Keralis, Kingdaddydmac, Monkeyfarm, Pungence, Skyzm, Sl1pg8r, and Topmass.
This is also the season where Mumbo Jumbo Made his Industrial District, Which became a bit overpowered, when Firework Rockets Were Introduced, He used the Mob farm + Sugar cane to make the firework shop.
Hermitcraft Season 4 Patch 1.9
World Seed -3558144527798569323 [7]
The spawn (island) was moved to X: -1150 Z: 2180[8]
The mesa is at X: -1200 Z: 1400[9]
Dungeons upped from 7 to 35[10]

Map of Districts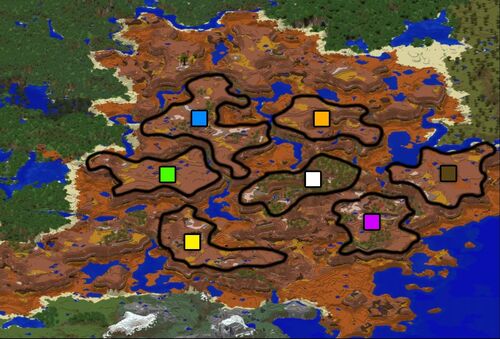 For the first time, the hermits have decided to introduce a system of designating a role for each area. The districts include: Commercial (brown), Entertainment (orange), Farming (yellow), Industrial (green), Municipal (white), Residential-North (blue) and Residential-South (purple).
Hermits living in the North Residential District include: Cub, False, Iskall, Mumbo, Scar, Tango, Welsnight and xBcrafted. Hermits living in the South Residential District include: Cleo, (to be continued)... Doc, Etho, and Python did not have bases in one of the residential districts. Instead, Doc & Etho set up a gaming area and Python set up a sea town nearby (but not in) the South District.
The map is shown at an angle with "North" in the top-most left corner.
This season, active hermits (who post videos) include:
cubfan135
Cleo
Docm77
Etho
FalseSymmetry
GTWScar
iJevin
impulse
iskall
Jessasin
Joe Hills
Mumbo
Python
rendog
Tango
Tinfoil Chef
Welsknight
xB
Xisuma
Other / Colab
References
Community content is available under
CC-BY-SA
unless otherwise noted.