'This article is under construction. Please note that the wiki is being built, you can help at Community To Do List or check out How can I help'.
Hermitcraft Season 4 started on February 25, 2016. Seventeen episodes came out on the first day plus one live stream repost[1]. Hermits with first day videos include: Cleo, Cubfan, False, GTWScar, iJevin, Impulse, Iskall, Jessassin, Joehills, Mumbo, Python, Ren, Tango, TFC, Wels, xBcrafted, and Xisuma.
Hermits who did not post on the first day include Biffa[2], Doc[3], Etho[4], VintageBeef[5] and Zueljin[6]. Hermits who did not make an appearance on the S4 server but were listed as Hermits include Hyno, Keralis, Kingdaddydmac, Monkeyfarm, Pungence, Skyzm, Sl1pg8r, and Topmass.
Hermitcraft Season 4 Patch 1.9
World Seed -3558144527798569323 [7]
The spawn (island) was moved to X: -1150 Z: 2180[8]
The mesa is at X: -1200 Z: 1400[9]
Dungeons upped from 7 to 35[10]

Map of Districts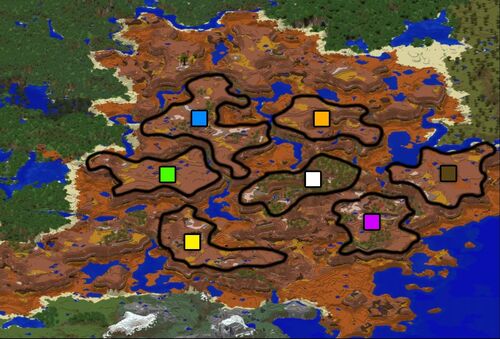 For the first time, the hermits have decided to introduce a system of designating a role for each area. The districts include: Commercial (brown), Entertainment (orange), Farming (yellow), Industrial (green), Municipal (white), Residential-North (blue) and Residential-South (purple).
Hermits living in the North Residential District include: Cub, False, Iskall, Mumbo, Scar, Tango, Welsnight and xBcrafted. Hermits living in the South Residential District include: Cleo, (to be continued)... Doc, Etho, and Python did not have bases in one of the residential districts. Instead, Doc & Etho set up a gaming area and Python set up a sea town nearby (but not in) the South District.
The map is shown at an angle with "North" in the top-most left corner.
This season, active hermits (who post videos) include:
cubfan135
Cleo
Docm77
Etho
FalseSymmetry
GTWScar
iJevin
impulse
iskall
Jessasin
Joe Hills
Mumbo
Python
rendog
Tango
Tinfoil Chef
Welsknight
xB
Xisuma
Other / Colab
References
Community content is available under
CC-BY-SA
unless otherwise noted.