This article is a stub. You can help the Hermitcraft Wiki by expanding it.
Thank you!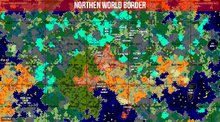 Season 3 started on 17th October 2014. Two episodes came out on the first day (IJevin and ZombieCleo) and ten episodes came out on the second day (Biffa2001, FalseSymmetry, Hypnotizd, KingDaddyDMAC, Skyzm , Sl1pg8r, TinFoilChef, Topmass, XBCrafted, and XisumaVoid). The last Season 3 video was posted on February 23, 2016.
Hermits who did not post their first episode by October 18th include Docm77, EthosLab, IAmSp00n, ImpulseSV, JoeHills, Monkeyfarm, MumboJumbo, Pungence, PythonGB, Spumwack, TangoTek and Zueljin. Hermits who did not make an appearance on the Season 3 server but were listed as Hermits include Jessassin, Juicetra, Keralis, Marriland, and Red3yz.
Hermits
Community content is available under
CC-BY-SA
unless otherwise noted.