This article is written in
British English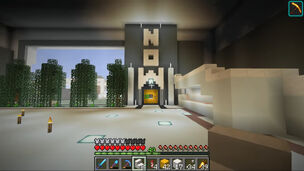 Inspired by Amazon Prime, Sahara Now is a part of Sahara which allows Hermits to better deals. Iskall85 brought up the idea and did the redstone while Grian did most of the building. It is located on the lounge of the Sahara building. To access Sahara Now, one must have a Sahara Now Membership Card, which costs 100 diamonds.
Sahara Now offered low cost products and the shulker box for lower prices than Sahara
During the launch of Sahara Now, MumboJumbo, Grian, and Iskall85 created a contest to see who can sell the most memberships. Each used a different method of marketing the membership.
Mumbo Jumbo created a piston-feed tape above ImpulseSV's iTrade and trapped himself with a zombie named Want Sahara NOW Membership? Msg. Me to fill the chat with advertisements. His zombie was renamed to TRESPASSING IN AREA 77! by Docm77, CHECK THE BLIMP IN HERMITLAND by Grian, and finally Can I get at least one member plz... by MumboJumbo.
Grian marketed the membership by creating a blimp in Hermitcraft and supplying it with sample Sahara Now deals. He also took away part of MumboJumbo's marketing by renaming the zombie.
Iskall85 asked Hermits directly.
Sahara Now have sold 12 memberships, 2 from MumboJumbo, 4 from Iskall85, and 6 from Grian. This adds up to 1,200 diamonds profit from membership sales.
Community content is available under
CC-BY-SA
unless otherwise noted.