This article is written in
British English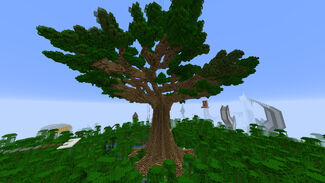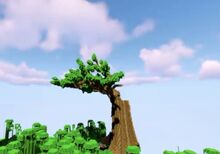 The Omega Tree of Doom, is Iskall85's Season 7 Mega base. It has and incomplete canopy and is in requirement of a million leaves to finish it, hopefully collected by Bernie the Leaf Master and the Hedge games. It is made primarily of oak leaves and oak wood, but it also includes, honey blocks and stripped oak wood. Inside the trunk sits the IBBB (In Between Bases Base), a base designed to facilitate Iskall85 until his tree can become a long term base.
Features
Diamond pile
Having collected several diamonds while attempting his 10000 diamond challenge, Iskall85 had a large pile of diamond blocks. He decided to display these along with several beacons bought from Lamps Plus in a large pile in the center of the trunk. Eventually these diamonds would be moved into smaller piles in crevises moving up the trunk.
Item sorter
Iskall85 has a small and simple redstone sorter for his base as the larger sorter is planned to sit in the cannopy. Shulker boxes and grindy items are deposited in a chest to be sorted and stored in a efficient manner. Other items are sorted manually into chests denoted with micro blocks collected through MICRO trade.
Nether portal
Iskall85's nether portal is housed in one of the "tree caves" at the bottom of the base. It is decorated with dark blocks, in contrast to the oak wood and leaves surrounding it, designed to imply the portal is sucking life from the tree,
Tree caves
The lower level of the trunk has several "tree caves" created by the bumps and roots of the tree. These house most parts of the IBBB, such as enchanting, sotrage and nether portal. One also houses a display of some of Iskall85's merchandise t-shirts.
Diamond Vault
In a attept to reduce his spending, Iskall85 constructed a diamond vault with would count the amount of diamonds he has collected in order to help him achieve his goal of 10,000 diamonds by the end of the season. The project is not yet complete.
Community content is available under
CC-BY-SA
unless otherwise noted.