This article is written in
British English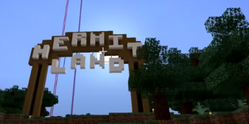 Hermit Land is the Season 6 Minigame District located east of Hermitville.
History
Hermit Land was founded by Grian in his Season 6: Episode 77. Zedaph's "Duck!", Cubfan135's Ravager Run, and Iskall85's Siege of Doom were present at the time of founding.
Minigames
Shops
Other Structures
Jingler Stunts
Hermit Land Sign = Jingle Land
S.E (Sahara Eats) = Sandals
Ice = Baby Ice Ice
XP Me = XP Thee
NFD (Nuggets for Diamonds) = Newly Found Diorite
Undying = Nodying
Ravager's Run = Ravager's Fun Run
Speedy Pines = Speedy Vines (with vines hanging of it)
DSD (Dig Straight Down) = DDR
Guess What? = Guess Whomst?
Perfection = Imperfection
Trivia
Unlike other seasons, Hermit Land wasn't added at the beginning of the season, instead being added after the 1.14 update.
Community content is available under
CC-BY-SA
unless otherwise noted.