This article is written in
British English
FalseSymmetry, also known as False for short, is an active Hermit who joined in Season 2. She currently has 403,000 subscribers[1] on YouTube. Her most viewed video is Hermitcraft 7 055 | SNEAKING INTO THE RESISTANCE HQ 🤫. She has a total of two other channels: FalseLive where she uploads livestreams and TrueSymmetry which is currently inactive.
Season 2
FalseSymmetry made her first Hermitcraft episode on 21 June 2014, it was a prank episode in which she filled up the base of KingDaddyDMAC and Hypnotizd with sand and cactus making a mini desert alongside MumboJumbo, XisumaVoid and Zueljin.
Season 3
FalseSymmetry made a giant pixel art of Olaf the snowman from Frozen at base of MumboJumbo due to it being ice themed.
This section is missing some important content. You can help the Hermitcraft Wiki by expanding it.

Thank you!
Season 4
This section is missing some important content. You can help the Hermitcraft Wiki by expanding it.

Thank you!
FalseSymmetry was the first Hermit to complete a base in the main mesa biome and later created a second base she named FalseLabs.
Season 5
FalseSymmetry had a base on a mushroom island that was supposed to be another FalseLabs. It was dug down to bedrock but was never completed.
Season 6
FalseSymmetry's base is an Aqueduct/Castle located in the Fantasy District. She was part of Team STAR during the Season 6 Prank War and found two of the flags in the 'Capture the Flag' game devised by Grian. She got 9th place in Demise.
Season 7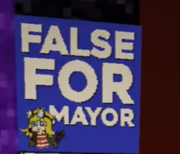 FalseSymmetry beat the Ender Dragon with ZedaphPlays in a boat and built False's End Emporium, selling end-related merchandise, as her first shop in the Season 7 Shopping District. She also contributed greatly to the Season 7 Nether hub as the designer and lead builder, and made her own Nether base.
Main Base
For more details, see FalseSymmetry's Season 7 Cyberpunk City and Toon Towers
FalseSymmetry's mega base this season was a gray concrete complex of towers on the coast. The main tower contains a wool farm, a cactus farm, and a storage system. Other towers contain Nether portals, flower farms, kelp farms, and a super smelter. However, after the events of HCBBS, she got the deed for TangoTek's Toon Towers, which she quickly renamed to "False Towers".
Mayor Election
For more details, see The Mayor Election.
FalseSymmetry decided to run for mayor of the Shopping District, making herself a simple campaign poster saying 'False for Mayor' with some pixel art. For more information, check out The Mayor Election.
FalseSymmetry's Season 7 Episodes [ View List ]
Minecraft Skins
Find all these skins here
References
↑

Last updated 4 February 2021
Community content is available under
CC-BY-SA
unless otherwise noted.