Architechs, formerly Buildstone, was a group of Hermits during Season 6, composed by MumboJumbo, Grian and Iskall85, who worked together on shops and projects, most notably Sahara.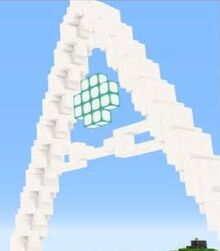 History
A Hermitcraft alliance called "Buildstone" was Grian's idea. After seeing the other Hermits forming alliances throughout the server (e.g. the ConVex, the N.H.O., etc.), he sat down in his conference room and recruited MumboJumbo.
The group was established in Mumbo's Season 6: Episode 5 and Grian's Season 6: Episode 4 with Grian and Mumbo as the only members.
The new logo of the group was created in Grian's Season 6: Episode 22.
After loads of comments suggesting to invite Iskall85 to the Architechs, he was invited in Grian's Season 6: Episode 53, where Grian handwrote a letter to Iskall the Old Fashioned Way with a quill and even a wax stamp labelled "AT".
Sahara
The first big project of the Architechs group was Sahara, a shop built to be a rival of ConCorp.
Sahara was a shop that automatically brings your items to you from a warehouse. Sahara's goal was to supply a large majority of items for its customers.
Subsidiaries
Sahara Express
Sahara Express was a mini-Sahara located in Hermitville. The idea behind it was that hermits wouldn't want to return to their bases, which were thousands of blocks away.
Sahara Eats
Sahara Eats was a branch of Sahara in the minigame district that sells golden carrots.
Sahara Now was a branch of Sahara which worked as a membership. The lifetime membership cost a hundred diamonds and gave members access to the upper level of the Sahara shopfront. Members could get cheap deals for food, building materials, and other necessities at a generally low price.
Sahara Fuel
Sahara Fuel was yet another branch of Sahara which set up "fuel stations" which offered a set amount of golden carrots, experience or rockets for the price of one diamond.
Other Projects
Stache4Cash
A shop built by Grian and MumboJumbo for people to pay 3 stacks of diamonds to win a chance to remove Mumbo's mustache.
Architech's HRN Station
A station in the Hermit Railway Network in between the bases of Grian and MumboJumbo, located on the Eastern Line connected to the Futuristic District Station and Eastern Station / Xisuma's Base.
Architech's Demise Bunker
The Architech Demise Bunker, simply known as the Architech Bunker, was a bunker built as a defensive hideout from the dead during Demise. It was linked with MumboJumbo's Bunker with a long hallway. Eventually, it was converted to the Dragon Bros Bunker and other Hermits were allowed in.
Community content is available under
CC-BY-SA
unless otherwise noted.