777static777 is an inactive Hermit with 42,800 subscribers[1] who had joined in Season 1 and left.
Season 1
777static777 joined the server in July 2013 and obtained the guest house from Keralis. He used it as his house in the spawn village. His temporary base was a Nether Fortress called "Castle Static" which he lived in for a while before moving into his final base which would be in a jungle biome.
777static777, while being part of Season 1, only made 10 episodes before stopping Hermitcraft on his channel. Many Hermits did this too.
777static777's Season 1 Episodes [ View List ]
Other Hermitcraft Content
Static was part of Hermitcraft Battle Royale Season 2 where he died in the kill zone.
Minecraft Skin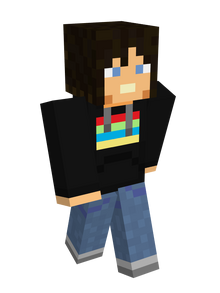 References
↑

Last updated 27 September 2020
Community content is available under
CC-BY-SA
unless otherwise noted.